By #TeamDiO Member Suzanna Hill
It has been a wet spring and summer down here in the Florida panhandle and it's probably about to be a wet fall...unfortunately, that usually means trouble with hooves and abscesses. I will share a few tips on prevention, but ultimately, DiO has saved me more than anything when all prevention has failed and an abscess still decides to hit one of my horses.
Tip Number 1.
CLEAN and DRY stalls!
If your pastures are soaked, you'll try to bring you horses in, well if the stalls aren't clean, that's just a ton of extra bacteria just waiting to get squished up into your horse's soft and warm feet and that's a premium environment for bacteria to multiply and get out of control and cause more problems.
Tip Number 2. Get Your Horses Out.
if it's just been wet non-stop and the horses really need some outside time, I will put them in the arena for them to get out and move around or in the sandiest based pasture that I have as sand holds less water and drains better. Also, I will only turn them out for several hours during the day time and then back into dry cleans stalls for the night, as even if it's drying out during the day, the dew and moisture from the night will have them on wet ground all night long and slow down the drying process.
Tip Number 3. Clean Those Feet!
Consistently clean your horses feet out and treat with an anti-bacterial product (thrush buster, go dry cow medicine, today/tomorrow cow medicine) to help keep them clean and free of bacteria. You can also treat with a water repellent product to help with them getting soft and making it easier for bacteria to get up in there.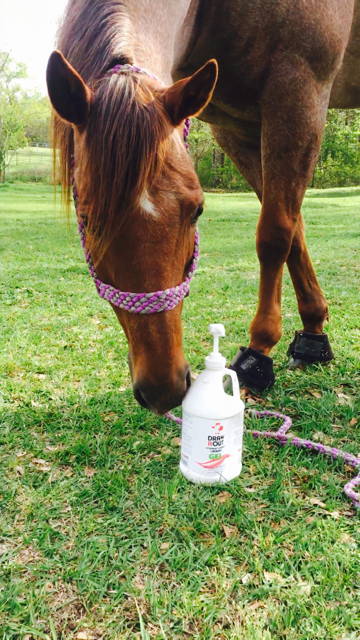 Here is another tip for when hauling - when we get to rodeos, you never know the parking area conditions. I love to build pens for my horses to stay in if I can, it's much bigger than a stall, much fresher air and just better! But sometimes the ground is just soaking wet from rain or the ground is just tore up from the contestants the night before, whatever the case may be, I always keep extra shavings for this reason so when I build a pen, I can lay a pile of shavings for my horse to not only have clean and dry ground to stand on, but also to lay down to sleep in...cause who wants to lay down in wet (maybe even cold) mud?!?
Now sometimes an abscess is bound to hit no matter what we do to prevent it or how good of care we take of our horses! If it does, I immediately call my farrier (he's amazing, talented, works closely with my vet, he's highly educated and highly certified). If you struggle with farriers in your area, call your vet! My farrier will pinpoint the abscess and open it to drain which will immediately relieve pressure and speed up the whole process of healing and recovering. But if my farrier does have any questions or doubts or doesn't think he can get to it, we will either call the vet or go to the vet and use an X-ray to look further. Once the abscess has been located and drained whether by vet or farrier, now is the important time to keep it clean and packed! An open abscess can refill with bacteria being smashed back up in there and usually a re-built abscess in the same spot is bigger and more crippling. So here's where you want to use your Draw It Out and let it do all the work for you and your horse! After an abscess is freshly cut open to drain, I will clean the foot all around best I can and then get as much DiO into the hole and pack with gauze and then add more DiO soaked gauze to the whole foot as the whole foot gets sore from even a small abscess and then I will wrap with vet wrap and then a duct tape boot to keep the foot as dry as possible and then once a again, a clean dry stall comes in handy here! Not only does the DiO help the abscess to continue to drain as it's a drawing agent, it also helps pull any additional heat and inflammation out of the foot which will ease the pain associated with these nasty things!
DiO has so many amazing uses, but this is a really good reason to keep it on hand so you can go right to it as soon as an abscess hits...your horse will thank you and you will be back on him sooner and good to go!
*Here's a picture of a wrap that came off one of my own horses after the treatment of an abscess. The abscess was in the side of the frog so I just covered the whole foot with the gel and left the wrap on for 2 days (I recommend changing daily) because I had to go to some other rodeos. Although the gauze was mostly dried out, the spot where the abscess was located, it was still wet with all the drainage that had been pulled out!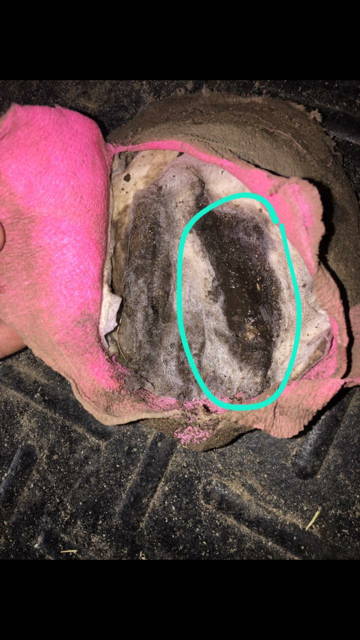 What Are Your Thoughts?
Let us know in the comments below!