By #TeamDiO Member Jenn Thorne
The pressure of seasoning colts often weighs heavily on a lot of people in the horse industry, myself included. I made it 15 years in the barrel industry without having to do the hard work of hauling a young one to see the sights and exhibition. By the time I started hauling mine, previous owners had taken them places whether it was local fun shows or trail rides. It is so easy to get discouraged when you're at a jackpot and your colt decides to act like it doesn't even know how to steer or follow its nose in front of everyone watching because it's too overwhelmed by everything happening around it. Now my seasoned horses have had some moments too, where I've come out of the arena wanting to just disappear into a hole or go back to my trailer and cry, I will be the first to admit. It's not always pretty, but I have found that those moments are more abundant with a colt.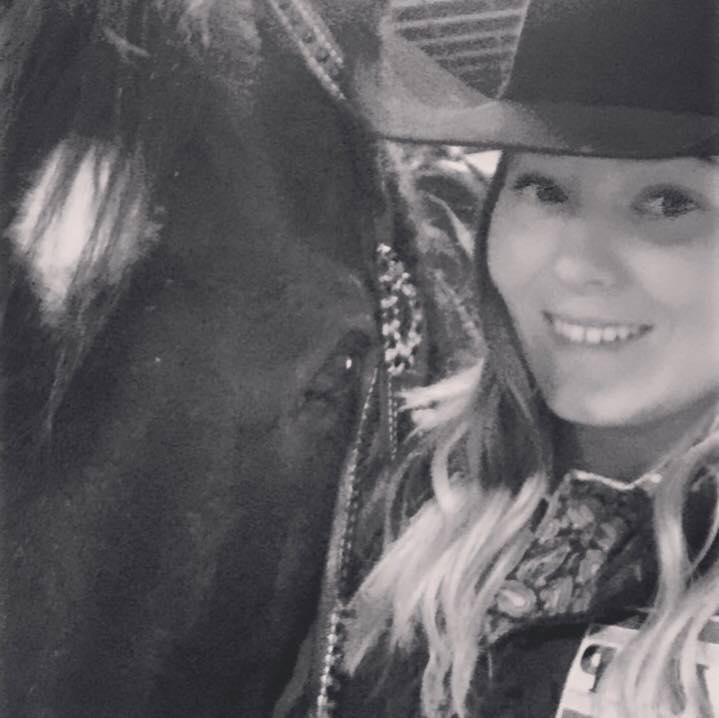 Mine is 4 now and still only has around 100 days of riding on her throughout her whole life, partly due to being started late and life getting in the way the last year. I've learned to pick my battles with her and not to fight too much as we both get easily frustrated. But none of that is her fault, it's mine for letting her sit and not being consistent with her and I take full responsibility for it. The pressure to get her going and having her running is heavy, as everyone I'm close to has entered their 4 year olds already and are running well. Then here mine is just trotting the pattern having been to one show so far. When I bought her as a 3 year old with 60 days I expected to be seasoning and finishing her out this year as a 4 year old so she could be my main horse as a 5 year old. I put a lot of pressure on myself and we're still not anywhere near where I wanted to be at this point. When I did take her in the spring she handled everything so much better than anticipated. She snorts at everything at home, but she rode well in the outdoor warm up arena, stalled like a pro, and wasn't bothered by things in the main arena going on during open arena. I was so proud of her until the moment a kid flew by on his grulla pony, of all things. You would have thought this pony, about 3 feet tall, was a pack of rabid wolves coming for us. She thought her life was over and I was so mortified that of all things, she'd be scared by a pony. She is pastured with minis at home, she's no stranger to small animals. Instead of getting frustrated and going to hide I laughed, because really how ironic is it. Was I still a little embarrassed that my horse tried to sidestep into the next county to avoid this pony, yes. Then I stepped off her to put her away and I heard from several people that they had been watching her and really liked her, and then the little grulla pony was forgotten in my head for the time. Spending the last year with her has humbled me so much as a rider, that's what colts do. They often go out there and make you look like you have no idea what you're doing, and then one day it all comes together and at that moment everything was worth it. I'm looking forward to that moment with her. Not every colt is destined for the futurity world, mine wouldn't have lasted a week being pushed that hard so young. I like her enough to be fine if it takes her 2 more years to get seasoned out, we have our own timeline that changes every week. The bond we've been building has been great, and she knows when she's had a good ride she gets treats and DiO. When she's done I rub her down and she gets to nap, and I think she secretly loves it.
So for all of you out there, don't get discouraged and even when your colt acts like a complete moron at a jackpot, find that one thing to pick out and be happy about and build on the rest the next time. Just because there's a dozen other colts the same age entered in the open, doesn't mean yours needs to be there too. Everything happens for a reason and when it doesn't go right, learn from it and move on. I think a lot of times the period of exhibitioning gets overlooked as you see so many articles discussing the beginning stages of training, patterning one at home, and tips and tricks for fixing and improving finished horses. So for all of you who may be struggling with your colts who are behind, or even those who aren't you're not alone and I respect you all and wish you the best!
I am 30 years old and have resided in Central Illinois for most of my life, I also live in Weatherford, TX fora while after college. I have two Associates Degrees, one in Equine Science and one in Horse ScienceTechnology. I also have my Bachelors in accounting as well. I didn't grow up in an equine household, welived in town and all I ever wanted as a kid was toy horses. I was never into dolls or playhouses, I justwanted Breyer horses. I had a few Barbie dolls, but they were only used as riders for my toy horses. Westill don't know where my horse obsession came from, but I couldn't imagine what my life would be likeif I wasn't born with it. Up until the age of 7 my riding experience consisted of pony rides around thecircle at fairs and carnivals. When I was 7 my grandparents took me to a dude ranch in Colorado, DrowsyWater Ranch, and my life changed forever. I learned all the basics there, and we went back every yearfor over 16 years. I started volunteering at a local stable that gave trail rides to the public, and wouldclean stalls and saddle all the horses in exchange for a one hour ride. Finally at the age of 12 I got myfirst horse, a 5 year old green broke gelding and he would buck me off almost every day.
A couplemonths later I got my next one and when I was 14 I started barrel racing on him. Sadly, he tore a tendonand has been a pasture pet for 12 years now, but he's still with me. The third horse I got was my dreamhorse, black gelding with a white star just like Black Beauty. He's the horse that changed my life. I tookhim to college with me and it was rough, he bucked me off the first day of school and the last day too.He and I hated each other for two years. He had been a standing stud for 7 years and when I purchasedhim we gelded him and had someone put the first two weeks on him for me, and I did the rest at school.Everyone told me to give up on him, two years was enough of trying right? He was a bronc and nothingwould stop him, I broke reins trying to turn his head around to stop. He's the only horse I've ever riddenthat could still buck hard with his nose around at my leg. One day he started to bronc again in the roundpen and I had had enough, I was fed up and angry which I think is the only thing that kept me on thatday. I held those reins with the saddle horse, dug my heels into his side, grabbed my over n under andwe went a few laps around that round pen. He made a sound that I can only describe as a deep gutturalgrowl and finally just stopped. He had given up, I had finally won, and he never bucked with me again.
That was 10 years ago and he has been my best friend since then, he's the horse that would step off acliff for me if I asked him to. I have been running him now for 8 years and he has been a solid 3D/4Dhorse for me. He's not the fastest, but I couldn't ask for a better horse to have around so he'll alwayshave a forever home with me. Last year he finally qualified us for NBHA World and we won the 4DChampionship at the Sharon Camarillo Classic to end our season. He gets to enjoy semi-retirement thisyear as I bring out my 4 year old, and I'm super excited about my future with her as well.This horse is the one that brought me to DiO after years of soreness. He's one that is what I'd call highmaintenance in the form of keeping him in running shape. He needs regular chiropractic adjustments. Ihad issues with him for years with only having half mobility in his front end to the left, to flex his headleft he had to turn his head half upside down. Two vets and two chiropractors who are also vets,concluded that he must've had an old breeding injury and they said he'd never have full mobility as theydid everything they could chiropractic wise and we had done other treatments as well. Last year I wasintroduced to a new specialist from out of state and within one hour he had unlocked my horse andgiven him full mobility back. My horse looked like he had life in his eyes again and his long trot strideextended monumentally. I had given him a chemical burn using liniment before on his back, so I wasskeptical about liniments. DiO was suggested to me and I tested a small spot and it didn't burn him,because it's all natural. And I've used it heavily ever since to keep him loose and feeling good. I use it onmy horses daily and often on myself as well. When they are stalled due to weather I apply the gel ontheir legs to keep any swelling down. I rub their legs down before and after workouts as well, and if itwas a hard work I spray the mixed concentrate on their entire bodies after. I especially like it at barrelraces as they're often stalled on concrete or hard packed lime. I feel comfortable knowing I have thisproduct to keep them comfortable and ready to work. All of my horses are powered by MVP products aswell. Not only am I on #TEAMDiO but also on Team MVP as an ambassador and I'm not exaggeratingwhen I say these two products make my entire season, I couldn't do what I do as well without them.