One of my favorite times a year when I was on the rodeo road was Cowboy Christmas. While actual Christmas is usually accompanied by cool weather, the cowboy version is not. Cowboy Christmas is the week of 4th of July and is a period of time that a person hauling for the NFR can easily hit 2 rodeos a day in a 5-7 day time period.
Running at rodeos back to back especially in the heat of the summer, is a challenge. On the 4th I would compete at three rodeos in one day. I would start with slack at Cody, WY that morning, run at the afternoon performance at Red Lodge, MT and then finish at Livingston, MT that night. Keeping your horse cool, refreshed and healthy is the biggest factor in coming out on top. For the past 50 years R.E. and I host barrel racing and calf roping schools for the first 3 weeks of June prior to leaving for the "summer run".
The month before I hit the road, I spend my free time preparing my horse. Having my horse in the best shape possible was important to me. Sometimes I rode my horse twice a day to prepare for days I'd make several runs. I like for my horse to have a cool place with fans and fresh water available during the hottest parts of the day. While horses do enjoy being turned out, I feel that the hot temperatures can drain energy so I keep my horses up during the day and turn them out at night. I plan my riding schedules to ride early morning and late evening. Since hydration is very important I would begin to introduce flavored water to my horse as an option next to plain water. This allowed my horse time to adjust to koolaid flavored water so when I did travel, the flavored water would help in strange locations if they didn't care for the local water. I always keep 2-3 buckets of water in-front of my horse.Today they have lots of great products like Horse Hydrator which filters out bad odors and tastes in water.
Legs are important to me. I work to keep even the tiniest bit of swelling out of my horses legs. I will apply a liniment such as Draw It Out daily after rides and use standing wraps at the first sight of puffiness. I do this in my daily routine and while I'm on the road I wrap for hauling and for when my horse is stalled. But Draw It Out also works great for muscle soreness over the body of the horse along with the legs. My favorite thing about it is that it won't blister my horse under wraps or even under my saddle pad! What a great way to loosen and warm my horse's muscles up! I also like to ice after my runs when time allows. When I was rodeoing, I always had extra soft matting under my regular trailer mats. However, today my horses travel on PolyLast Flooring which is a superior, antimicrobial floor surface that provides extra cushion and comfort for my horse.
I travel at night to the arenas to help keep my horses out of the heat but if I have to haul during the day I watch the thermometer I install in all my trailers. If the temperature rises too much I plan safe stops where I can get the horses in shade and bathe them. Always scrape your horses coat off after you bathe them since water will act as an insulator and absorb heat from your horse's body. Scraping the water off will help cool them faster.Remember to use electrolytes after runs to help replenish what your horse has lost. If I have been running my horse hard, I sometimes have a vet provide them IV fluids! At most places especially big races, there are vets around who will be able to do this for your horse.
Always listen to your horse. If you feel you horse is too hot, tired or not 100% then be pro-active. Make sure you stay rested while you keep you and your horse on a tight schedule. Stay positive if you have a bad run and get ready for the next one. Drink lots of fluids, eat healthy and go the extra mile for your horse. One time I asked Josey if he thought my horse was comfortable in the trailer. He said, "why don't you get in the trailer and see"? I did and about 50 miles later he let me out! A girl has to do what a girl has to do!!!!
Meet #TeamDiO Member Lynnsy Johnson
Lynnsy is an up and coming barrel racer from La salle Colorado. She is also sponsored by Rebel Barrel Horses and woks at Saddle Up in Longmont. We are happy to welcome her to the team and are more than excited to see her future unfold!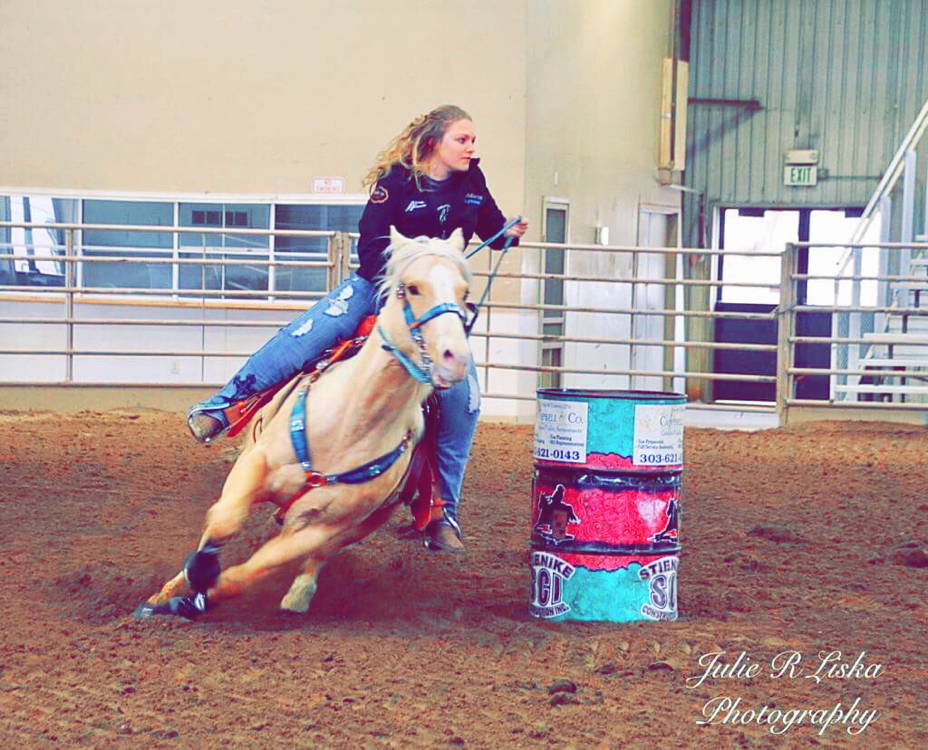 "Our horses are athletes. They do so much for us. Every time we step into that arena, our horses give us their maximum effort. That's why it is so important to take care of them. I love the DiO products. They are easy to use, not messy, and not greasy. The product is natural and I trust using it on my horses skin. There's such a noticeable difference when using this product. I have a 15 year old barrel horse with mild arthritis and this product helps him move and feel like a 5 year old again. This stuff is amazing and is worth every penny. I will always have some on hand and I'm so grateful to the DiO team for making a trustworthy product to keep my horses in the best shape possible."